There is no thought worth thinking
Unless it is the thought of God.
There is no sight worth seeing
Unless it is seen through His eyes.
There is no breath worth breathing
Without giving thanks to Him
Whose very breath it is. Author Unknown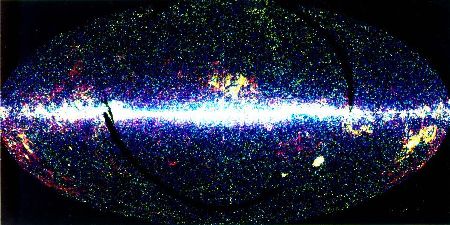 Milky Way Galaxie - NASA Image
Thanks to the Hubbell telescope for recent photographs of outer space showing newly discovered constellations that vastly expand our knowledge of the heavens, the light having left those clusters of planets and stars centuries before. When we pair that knowledge with several ancient texts in the Bible informing us that those who are called and elected into God's kingdom "before the foundation of the world", our minds are rightly staggered by the love of our Creator. And we humbly must admit that grace trumps works for admission into God's family.
These days my thoughts have turned to "imagining heaven"-- in keeping with studies in the book of Revelation. The apostle John was given a glimpse of the place and wrote what the Holy Spirit directed him to write, so we need not imagine too much; it's all there for us to read and appreciate. Exploring the universe should give us several millenniums of adventure.
Benedictions from writing this monthly journal page come in many forms. Best of all are notes and letters from friends who have crossed my path along my peripatetic life and journey. How affirming it is to know that people in your past still hold to the same faith and recognize that the adventure of living means learning more exciting new truths every day! From friends Jim and Lynne Chamberlin who live in Brooklin, Maine comes this letter telling of their communion with the stars:
"Every day we go out in our yard and are awed by the changing beauty of God's world," wrote Lynne. "Things we never noticed before. At night the stars are spectacular! There is very little light pollution on Maskeag Point. Now as Orion, Gemini, and the amazing Sirius are disappearing over the horizon, the Big Dipper is overhead followed by Bootes. The bright stars and planets intrigue us as we see them come up from the kitchen window. So we have to study the constellations that they're in. Right now in Arcturus. We grab the binoculars and spend hours outside. If I could build a house, it would have a glass roof."
Capturing the beauty of the conversion of the water into wine, the poet Alexander Pope said, "The conscious water saw its Master and blushed." That sublime description could be reworked to explain each one of these miracles. Was it any different in principle for a broken body to mend at the command of its Maker? Was it far-fetched for the Creator of the universe, who fashioned matter out of nothing, to multiply bread for the crowd? Was it not within the power of the One who called all the molecules into existence to interlock them that they might bear His footsteps?" — Ravi Zacharias (Jesus Among Other Gods - The Absolute Claims Of The Christian Message)
Eternal Security: For I am persuaded that neither death nor life, nor angels nor principalities nor powers, nor things present nor things to come, nor height nor depth, nor any other created thing, shall be able to separate us from the love of God which is in Christ Jesus our Lord. Paul to the Romans 8:28-29.
"In worship God gathers his people to Himself as the center: 'The LORD Reigns!' " Worship is meeting God at the center so that our lives are centered in God and not lived eccentrically. We worship so that we live in response to and from this center, the Living God. Failure to worship consigns us to a life of spasms and jerks, at the mercy of every advertisement, every seduction, every siren. Without worship we live manipulated and manipulating lives. We move either in frightened panic or deluded lethargy as we are, in turn, alarmed by specters and soothed by placebos. If there is no center, there is no circumference. People who do not worship are swept into a vast restlessness, epidemic in the world, with no steady direction and no sustaining purpose." Eugene Peterson
Grand Tetons Mirrored
When I stand before God at the end of my life, I would hope that I would not have a single bit of talent left and could say "I used everything You gave me." Erma Bombeck